Wesco Farms Bella Luna
"Una"
2000 AMHR 36.75" Black Mare
* * Negative for the four known ACAN dwarf mutations! * *

Sire: Las Doradas American Eagle x Dam: Las Doradas Etoile de Mar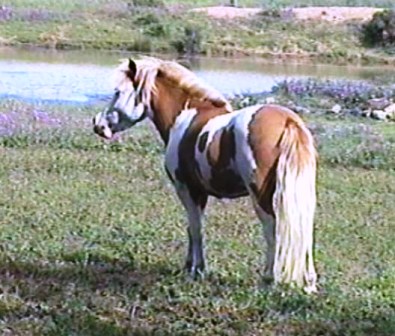 x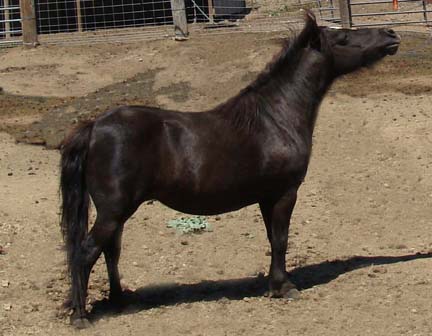 Una, day old foal.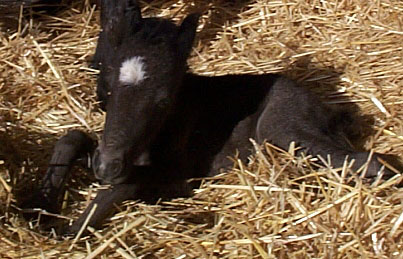 Una was the first foal we had back in 2000. We bought her dam in foal to Eagle, who was already in Australia at the time (We didn't know Una was on the way until her mom was delivered to us!). Una has been a lovely addition to our herd and is a lifer here. Una has gone oversize, so we turned in her AMHA papers, which while legal was unfortunate, as her first foal, Wesco Farms LM Enter the Shaman, topped out at 32", but with AMHA's policies was unregisterable.
Her second surprise foal was Blessings, as we didn't know Una was pregnant - Una is a sneaky pregnant mare - as she came down off the hill on Mother's Day with her filly by her side.

Our Breeding Philosophy
Wesco Farms has an unconventional breeding philosophy, in that we like a short foaling season (April foals ideally for our climate), and have chosen to NOT breed mares every year.

Our preference, is to put stallions to mares around May 1 and take them out May 31st for those April foals. Our stallions get a brief window - maybe one-two heat cycles depending on the mare. We're fine with a less than ideal cover rate, as we've dealt wit winter, summer and fall foals, April is our sweet spot!. We just don't want people to "assume" mares are at fault for what appears to be a sketchy foaling history as many mares do not get bred for a couple or three years depending on life circumstances; stallions chosen for that year; etc. AND rarely, do we breed a mare back after foaling.

We're including individual mare's breeding history below.
Please contact us! with any further questions or clarifications!

Una's Foaling History:

2020. Not bred. We are not breeding in 2020. Next foals will be 2022. Una's officially retired!
2019. Not bred
2018. Not bred
2017. Pretty much into retirement
2016. Not bred
2015. Not bred
2014-2015. Bred to Wesco Farms BuckeRowdyRoo (on purpose this time!). Foaled Wesco Farms Rocky B
2013. Not bred
2012. Not bred
2011. Not bred
2010. Not bred
2009. Not bred
2008-2009. Apparently bred by Ringo (Wesco Farms BuckeRowdyRoo), thru a fence, over a fence, around the side of the barn? We don't know how this one happened and didn't know she was pregnant. She showed up the day after Mother's Day with her daughter, Wesco Farms Count Your Blessings. (People feeding so I didn't have to on Mother's Day apparently didn't count noses!).
2007-2008. Bred to Grosshills Littlemans Anticipation. Foaled Wesco Farms LM Enter the Shaman (Shaman).
2006.
2005.
2004.
2003. Not bred.
2002-2003. Bred to Little Kings Echo Diablo. Foal found dead, unknown cause.
Una's pedigree
Wesco Farms Bella Luna
Las Doradas American Eagle
Sugar Creek Geronimo
San Antonios Sundance Kid
Bond Commodore
Bond Jocko
Bond Fantacy
Komokos Happy
Komokos Spider
Komokos Sweet Pea
Stouts Bubbles
Stouts Moonshine
Stouts Mister Pride
Stouts Mona Lisa
Stouts Little Pritsie
Stouts Black Magic
Stouts Mona Lisa
West Coast Buena Callita
Kays Calico
Kays Mustang
Goforth Little Pistol
Kays Breeze
Hobby Horses Full Moon
Hobby Horses Patches
Little Englands Lord Cupido
Little Englands Lady Jessica
Hobby Horses Betty
Las Doradas Etoile de Mar
Willowbrooks Moonshadow
Dell Teras Thriller
Dell Teras Bronco
Irsul Vant Huttenest
Vodka
Dell Teras Rhonda
AWH Lady Black
Les Petites Avril
Tinker Toy Sundance
Hemlock Brooks Pharo
Dell Teras Moon Man
Dell Teras Missy
Hemlock Brooks Shirley
Dell Teras Lord of the Isles
Dell Teras Mine
Candy Dipper
P JS Poker Chip
P JS Nipper Zipper
Pedigree generated by PedigreeQuery.com