LGF Miss Liberty Belle
"Libbe"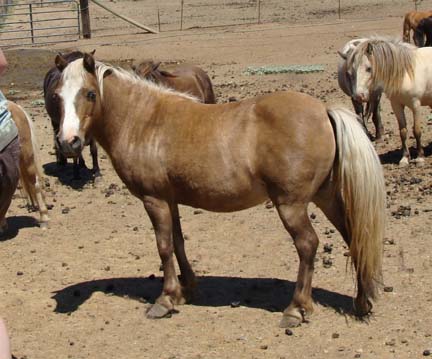 1995 AMHA & AMHR DNA PQ tested (pending) 33.75" Silver Bay Mare
Sire: Sugar Creek Geronimo x Dam: Lot a Dot Squirrel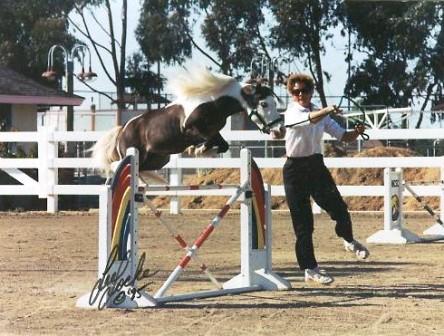 x no dam photo available
Libbe is a gorgeous rich silver bay with blue eyes and a blaze. She has wonderful conformation, leggy with a reaching trot. She is one of only two Geronimo daughter's and one of the few remaining of his get breeding. She is half siblings to two phenomonal stallions Doradas Spiritwalker and Las Doradas American Eagle (in Australia). One of her daughters is in a breeding program in Japan and her other foals have sold quickly.
Libbe is an exemplary dam with her foals and they've inherited her good sense, easy manner and lovely trot.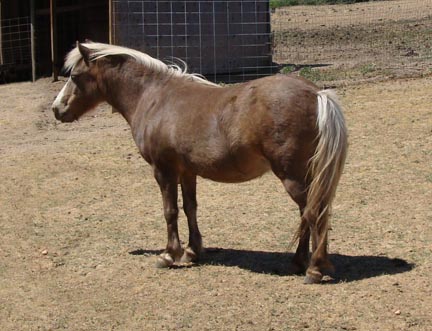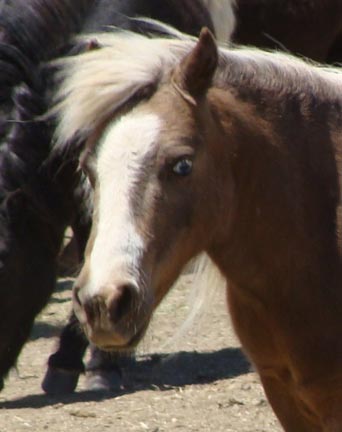 Libbe prefers open pasture and living in a herd situation versus being stalled.
She's easy to trims & tie, etc., and loves water!
She would make a wonderful addition to any breeding program that is breeding for athletic correct Minis.
Libbe was pasture exposed to Bells Hollywood Heartbreaker for a 2012 foal. LFG.
Libbe's pedigree
LGF Miss Liberty Belle
Sugar Creek Geronimo
San Antonios Sundance Kid
Bond Commodore
Bond Jocko
Bond Tiny Tim
Bond Honeydew
Bond Fantacy
Bond Bulldog
Bond Amy
Komokos Happy
Komokos Spider
Komokos Ringo
Komokos Buttons
Komokos Sweet Petunia
Komokos Chicko
Komokos Millie
Stouts Bubbles
Stouts Bucky Badger
Stouts Moonshine
Stouts Mister Pride
Stouts Mona Lisa
Stouts Minnie Pearl
Stouts Little Pritsie
Stouts Black Magic
Stouts Mona Lisa
Lot a Dot Squirrel
Lot a Dot Mr No No
P JS Poker Chip
P JS Hi O Painty
Lot a Dot Annie
Lot a Dot Mr No No
P JS Poker Chip
P Js Hi O Painty
Lot a Dot Mary Ann
Pedigree generated by PedigreeQuery.com