Buckeye WCF Dance All Night
"Jelly "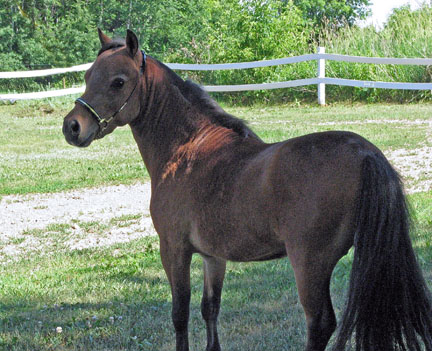 2007 AMHA & AMHR PD Bay Stallion
Sire: FWF Little Wardance x Dam: Buckeye WCF Dance Until Dawn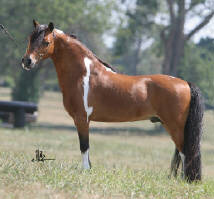 x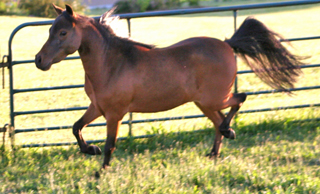 Dance is a gorgeous example of top quality breeding. Sired by FWF Little Wardance out of the stunning Buckeye WCF Dance Until Dawn (a Little Wardance grand-daughter as well as going back to Egyptian King and Blue Boy), he is what we want to see in a breeding stallion.
Beautiful head, large wide-set eyes, long neck with a tight throat latch that ties in high, sloping shoulder, straight legs, short back and a great butt.

One of Dance's 2010 foals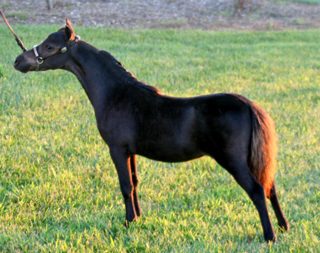 Dance's pedigree
Buckeye WCF Dance All Night
Flying W Farms Little Wardance
Flwying W Farms Wardance
Flying W Farms Sundance
Flying W Farms Wildwood Rose
Raffey
Roseanna
Flying W Farms Matadors Moonflower
Flying W Farms Matador
Flying W Farms Masterpiece
Flying W Farms Blondie
Flying W Farms Sundance
Flying W Farms Goldie
Flying W Farms Imadoll
Buckeye WCF Dance Until Dawn
Willow Creeks My First Dance
Flying W Farms Little Wardance
Flying W Farms Wardance
Flying W Farms Sundance
Flying W Farms Matadors Moonflower
Flying W Farms Matador
Flying W Farms Imadoll
Flying W Farms De Ja Blue
Flying W Farms Little Blue Cody
Flying W Farms Little Blue Boy
Ohios June Lilly
Flying W Farms Blue Illusion
Flying W Farms Little Blue Boy
Twin Acres Rowdy
Rae Lyn Tax Exempt
NFC Egyptian Kings Midas Touch
Hemlock Brooks Eygptian King
Dell Teras General Lee II
Dell Teras Lady of Spain
Moastery Madre Mia
Bond Roadrunner
Bond Bright Rhytem
Rae Lyn Buttercup
Landrys Cowboy Bill
Dels Cowboy
Dels Sally
Nikki Lynns Cricket
Komokos Spider
Nikki Lynns Penny
Pedigree generated by PedigreeQuery.com
**FWF Wardance owned by Olympian Ranch, photo's of Dance, his dam and foals provided by Deanna Fulweiler, Winding Creek Minis & Getitia Matheny, Buckeye Walnut Creek Farm