Wesco Farms AToy4Me Brazen Beauty
"Valentina"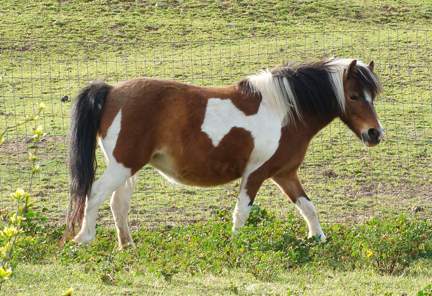 2003 AMHA & AMHR DNA PQ Tested
NN (Negative) for the known ACAN Dwarf genes
33.25" Bay Pinto Mare
Sire: Las Doradas AToy4Me2 x Dam: Las Doradas Celena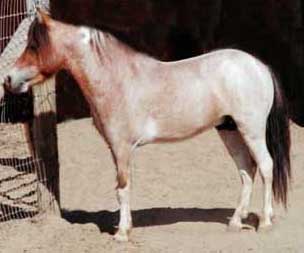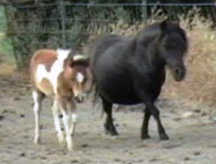 Valentina is a beautiful bay mare with wonderful conformation, movement, large doe eye and a pretty shaped head. Add to that her rich color and she's a definite "keeper" mare.

Val was tested for the ACAN Dwarf genes in July 2020. She is N/N for all four known types (D1, D2, D3 & D4).
That means she cannot pass dwarf genetics and her foals have inherited her NN from her.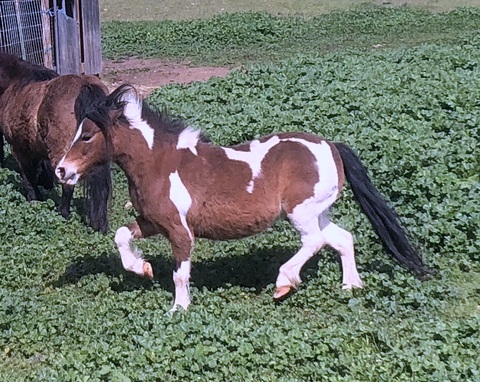 We've had some gorgeous foals from her so far (Wesco Farms TC Up All Night, Wesco Farms Jai Ho FF and Wesco Farms Spyder Byte MX).

We love the cross with WCR Top Cop so well we've repeated it - resulting in Mattie, Lola and Watoga (Jitter's full siblings).
Wesco Farms TC Mattie Ace, Wesco Farms TC Lovely Lolita (doa) and Wesco Farms TC Watoga Wanderer.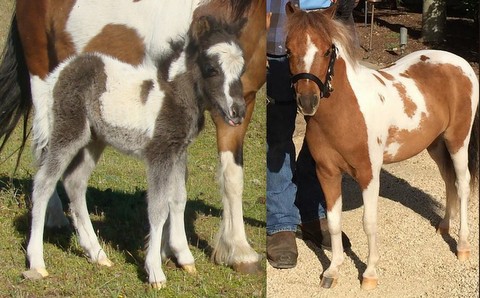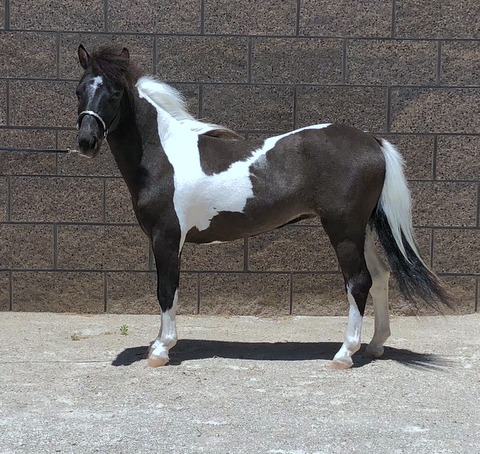 Val taking a nap on her daughter, Spyder (Wesco Farms Spyder Byte MX). We sadly lost Spyder to unknown causes about a month after this photo.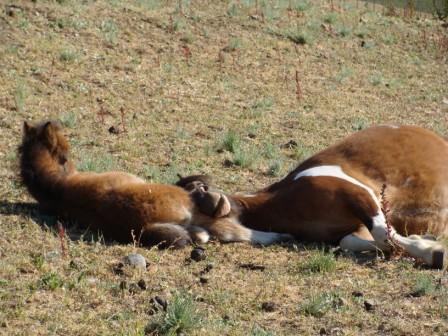 Our Breeding Philosophy
Wesco Farms has an unconventional breeding philosophy, in that we like a short foaling season (April foals ideally for our climate), and have chosen to NOT breed mares every year.

Our preference, is to put stallions to mares around May 1 and take them out May 31st for those April foals. Our stallions get a brief window - maybe one-two heat cycles depending on the mare. We're fine with a less than ideal cover rate, as we've dealt wit winter, summer and fall foals, April is our sweet spot!. We just don't want people to "assume" mares are at fault for what appears to be a sketchy foaling history as many mares do not get bred for a couple or three years depending on life circumstances; stallions chosen for that year; etc. AND rarely, do we breed a mare back after foaling.

We're including individual mare's breeding history below.
Please contact us! with any further questions or clarifications!

Valentina's Foaling History:

2022
2021. Val was exposed to Ozzie, First Knight's Winter of Oz for 2022.
2020. Not bred. We are not breeding this year. Next foals will be in 2022.
2019. Foaled Wesco Farms TCs Watoga Wanderer. black pinto colt.
2018. Bred to WCR Top Cop.
2017. Foaled Wesco Farms TCs Mattie Ace. Not bred.
2016. Bred to WCR Top Cop.
2015. Foaled Wesco Farms TCs Lovely Lolita. Not bred.
2014. Bred to WCR Top Cop.
2013. Bred to Fallen Ash Scouts Oscar. Aborted black pinto filly 5 1/2 months.
2012. Not bred.
2011. Foaled Wesco Farms TC Up All Night. Not bred.
2010. Bred to WCR Top Cop.
2009. Foaled Wesco Farms Jai Ho FF. Not bred.
2008. Foaled bay roan filly (died unknown cause at one month+/-). Bred to Wesco Farms Frangelico Flashback.
2007. Bred to Lucky Four Andys Colorcard.
2006. Not bred.
Valentina's pedigree
Wesco Farms AToy4Me Brazen Beauty
Las Doradas AToy4Me2
Hartins Tinker Toy
Bond AToy4U C
Bond Showboy
Bond Acushla
Bond Sir Galahad
Dell Teras Carbon Copy
Dell Teras Tinker
Dell Teras Pattycakes II
Dell Teras Otis
Dell Teras Tina
Samis On Target
Samis Knee Hi Lil Guy
Shadow Oaks Top Banana
Shadow Oaks Paul Bunyan
Shadow Oaks Tiny Miss
Samis Fame de Orion
Orion Light Vant Huttenest
Walkiri Bird Vant Huttenest
HNFS Sweetheart
HNFS Senior
HNFS Roxie
Las Doradas Celena
Willowbrooks Moonshadow
Dell Teras Thriller
Dell Teras Bronco
Irusl Vant Huttenest
Dell Teras Rhonda
AWH Lady Black
Hidden Rivers Tiffany Delight
Shady Acres Cracker Jack
Shady Acres Gee Whiz
Shady Acres Midget
Kraus Kings Lightening
Pedigree generated by PedigreeQuery.com