Wesco Farms Ozs Coco Caliente
"Coco"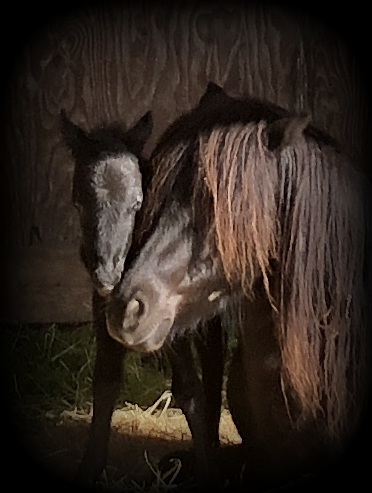 2014 AMHA/AMHR PQ tested
NN (Negative) for the known ACAN Dwarf genes
33.25" Black Mare
Sire: Fallen Ash Scouts Oscar x Dam: Half Measures Rockette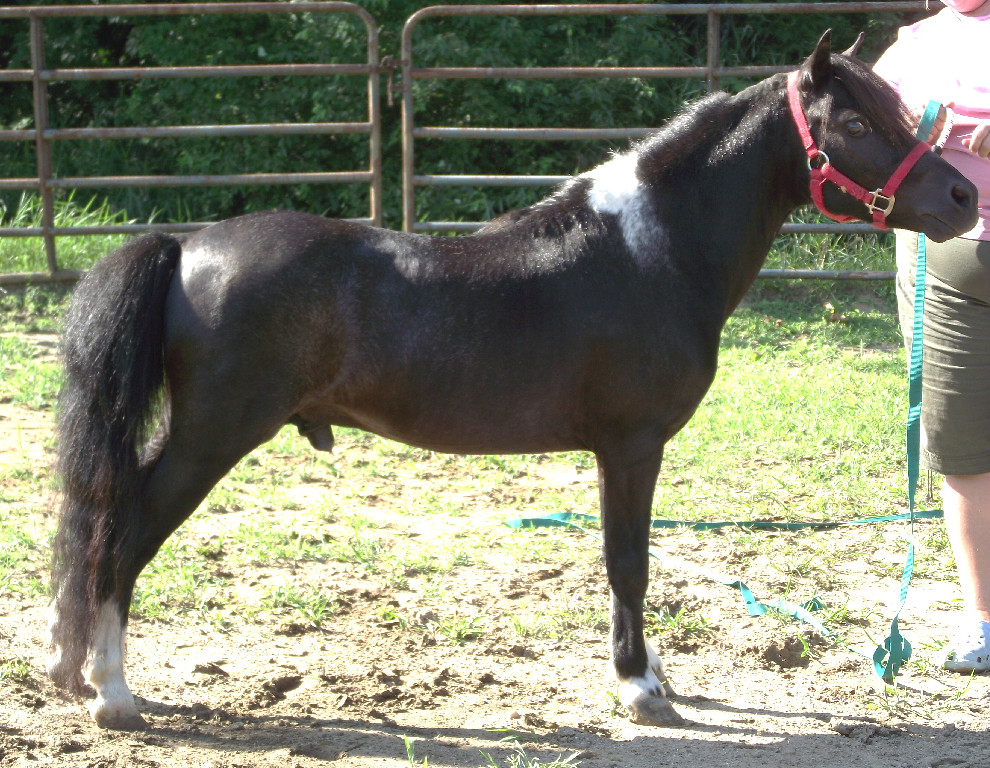 x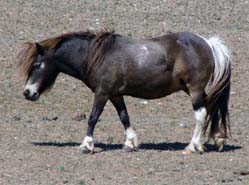 Coco is gorgeous, even if she's solid black out of two pinto parents! Daughter of our stallion Oz (Fallen Ash Scouts Oscar, a L&D Scout son), her dam is a beautiful sooty buckskin pinto mare that has already produced show winning foals.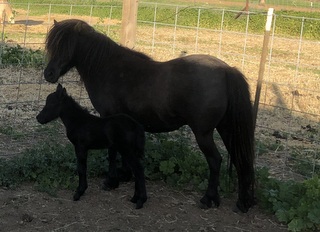 Coco has the conformation, refinement, intelligence and now is a proven broodmare - perfect addition to our breeding program.

Coco was tested for the ACAN Dwarf genes in July 2020. She is N/N for all four known types (D1, D2, D3 & D4). That means she cannot pass dwarf genetics and her foals have inherited her NN from her.

On the left is Coco and on the right her 2018 son, Tilty. He's going to have the same refinement she does apparently!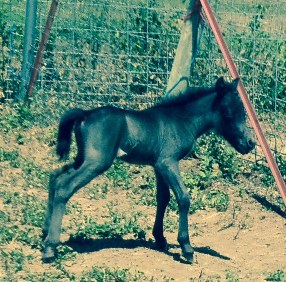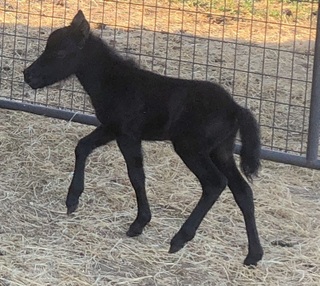 Our Breeding Philosophy
Wesco Farms has an unconventional breeding philosophy, in that we like a short foaling season (April foals ideally for our climate), and have chosen to NOT breed mares every year.

Our preference, is to put stallions to mares around May 1 and take them out May 31st for those April foals. Our stallions get a brief window - maybe one-two heat cycles depending on the mare. We're fine with a less than ideal cover rate, as we've dealt wit winter, summer and fall foals, April is our sweet spot!. We just don't want people to "assume" mares are at fault for what appears to be a sketchy foaling history as many mares do not get bred for a couple or three years depending on life circumstances; stallions chosen for that year; etc. AND rarely, do we breed a mare back after foaling.

We're including individual mare's breeding history below.
Please contact us! with any further questions or clarifications!

2017. Bred to Topper.
2018. Foaled Wesco Farms TCs Full Tilt Charmer. OPEN for 2019.
2019. Bred to First Knights Wizard of Oz. Open
2020. Open. We're not breeding this year.
2021. Exposed to Ringo, Wesco Farms Buckerowdyroo, for 2022.
2022
Coco as a yearling.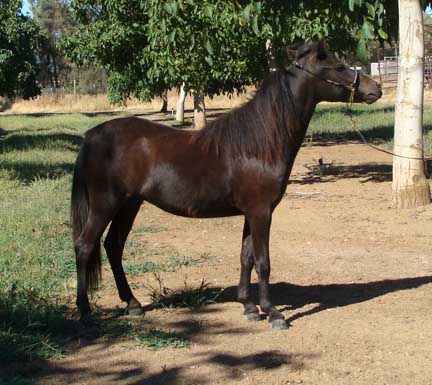 Coco's Pedigree
* We made the mistake of Parent Qualifying her dam, Half Measures Lord of the Dance when we purchased her, as we like to
KNOW
the breeding of our horses and when we tell buyers this horse is xyz it actually is that! Dani had only been DNA tested before,
NOT Parent Qualified
. Turns out Dani was a different horse - Half Measures Rockette, not Half Measures Lord of the Dance. Sadly her sire had died before his paperwork went permanent, but he had been DNA tested, so she lost her sire's pedigree, but retained her AMHA papes!
That was the LAST time we made that error of PQ-ing other peoples horses!
Wesco Farms Ozs Coco Caliente
Fallen Ash Scouts Oscar
L&D Scout
Orion Light Vant Huttenest
L&D April Lady
Flying W Farms Texas Bluebonnet
Flying W Farms Little Blue Boy
Ohios Tiny Tim
Ohio's Nellie Grey
Flying W Farms Fairflight
Half Measures Rockette
unknown
Buttonwillows Dusty Dawn
Lippes Granite
Dell Teras Tinker
Dell Teras Betty
Deiles Dust Girl
Parrs Sambo
Dieles Dust
Pedigree generated by PedigreeQuery.com