WCR Top Cop
"Topper"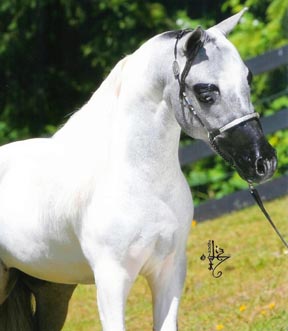 32" gray (black pinto) stallion
AMHA and AMHR registered, DNA tested.
Negative for the known ACAN dwarf mutations
Sire: Lucky Four Andys Colorcard x Dam: Gallery Original Pharos Cleopatra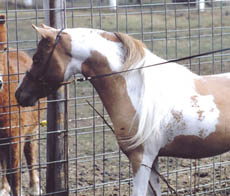 x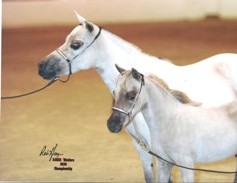 Topper is a total sweetheart. He is very correct - short back, gorgeous legs, long neck with a tight throatlatch, lovely wedgy head, big eye and tiny muzzle. Add to that he is a proven winner with success in halter, liberty and color classes. He is a multiple Top Ten All Star, National Top Ten, NWMHC Hi Point and Canadian All Star Reserve Champion with limited showing.

Add to that he's a very gentle and kind stallion. We use him as a babysitter for weanlings/yearling colts and he is a great teacher and buddy to them.

His pedigree matches him to a T - he really is the Tops!! A son of "Ace", Lucky Four Andys Color Card, out of the gorgeous, Cleopatra, daughter of Sierra Dawns Unos Pharaoh (2003 AMHA Reserve National Grand Champion & 2009 AMHR National Grand Champion Country Pleasure Driving to name a few of his accomplishments). Topper's pedigree going back to Sierra Dawn Uno de Mayo and Boones Little Andy, two of my favorite stallions!
Topper has proven to sire consistently super-nice foals. His foals that have had the 'grey goggles' seem to be slow to grey out, but then again it took him until his teens to go to the pure white Araby grey look. Personally I'd LOVe another pretty grey like him, and I'm a total believer in a good horse is never a bad color.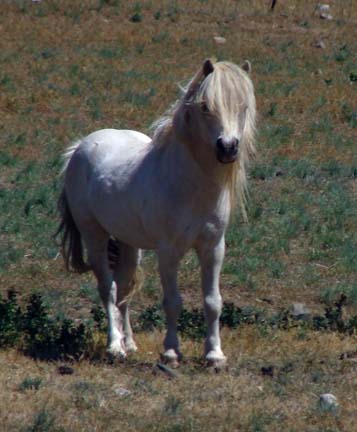 All of Toppers foals carry the "TC or TCs" designation in their name. Wesco Farms TC "whatever name I think up"!

(left to right) top row: Wesco Farms TC Full Tilt Charmer; Wesco Farms Dare 2B Different; Wesco Farms TCs High Boltage; Wesco Farms TCs Bijou Graphique and Wesco Farms TC Watoga Wanderer.
Second row: Wesco Farms TC Silver Side Up; Wesco Farms TC Double Dutch Crunch; Wesco Farms TC Rusti Renegade; Wesco Farms TCs Ascended Allure and Wesco Farms TC Faniciful Finesse.
Third row: Wesco Farms TC Mia Monchhichi; Wesco Farms TC Sai Sahan; Wesco Farms TCs Defiantly Different.
Bottom row: Wesco Farms TC Trailblazer; Wesco Farms TC Smokehouse Rules; Wesco Farms TC Mattie Ace; Wesco Farms Up All Night; and Wesco Farms TC Lovely Lolita.

* We have retained two of his daughter's Mattie Ace and Bijou for our breeding program. *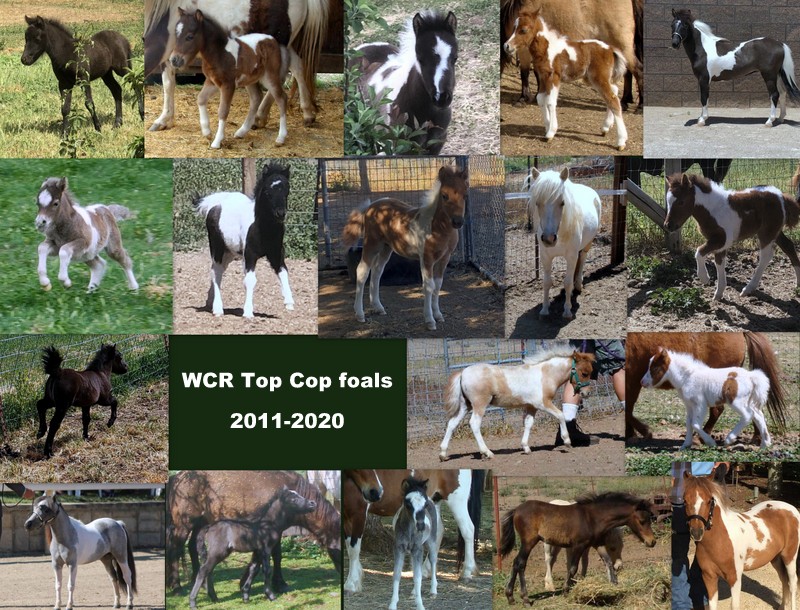 * We do not maintained webpages for all the above foals that are no longer here, but we do have information on them.
Here's an example of Topper's successful breeding technique - make sure the mares really really want you! (And they do!)



Gemini was showing great interest in her man, until Daedra showed up! Gemini with her 2019 daughter by Topper, Fannie. His mares do love him. We decide to breed back a couple of the 2019 mares for 2020 foals (Surprise and Gemini took!) as the 2019 foals were that nice.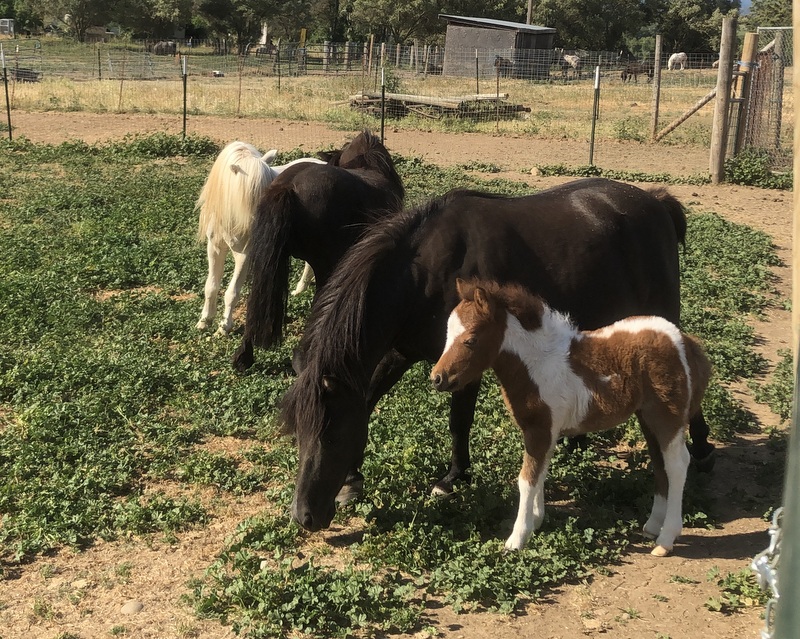 Topper's pedigree
WCR Top Cop

Lucky Four Andys Colorcard

Boones Little Andy

J RS Golden Boy
Bar K RS Little Chief Bustin
J RS Holland Beauty
June P I
Lucky Four Mightys Monique
Lucky Four Mighty Moto
Double OS Mr Man Moto
Double O Seven Moto
Tom Field Mare
Delightful Doll Moto
Showtimes Earth Angel
Flying W Farms Firedance
Showtimes Mistical Angle
Ohios Meadow Muffin
Flying W Farms Little Snowhite
Gallery Original Pharos Cleopatra

Sierra Dawn Unos Pharoah

Sierra Dawn Uno de Mayo

Cottonwoods Star
Shangrilas Schatze
Bond Scrapper
Bond Lode Star
Star Farms Happy Talk
Cottonwoowds Captain Red Lee
Bond Commodore
Lee Ann
Star Farms Honeymoon
Bar K RS Ricardo
Cottonwoods Little Miss Muffit
Deiles Dakota Daisy Delight
Boones Little Andy
J RS Golden Boy
Bar K RS Little Chief Bustin
J RS Golden Boy
June P I
Dakota Daisy
Pedigree generated by PedigreeQuery.com
** Last we know - Lucky Four Andys Colorcard is owned by Little L Acres /SKR Farm and
Gallery Original Pharos Cleopatra owned by Showcase Miniature Horses. **